This mounth, February, we will be knitting a one-colored sock with a lace-panel running at the side of the foot. I hope you are ready to give this lovley sock a try.
https://www.ravelry.com/patterns/library/woodland-walk-socks
Woodland Walk Socks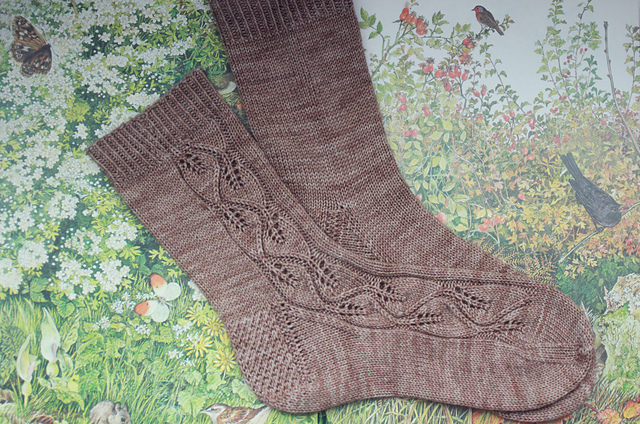 Is there anything more magical than a walk in the woods during winter right before the first snowfall. Like the leaves falling from the trees as winter sets in and autumn says its last goodbye. The leaf pattern reminds me of just those leaves, once they have fallen and the woods are quiet and only the crunch of those leaves are under foot.
The leaf lace stitch is knit either the side of the socks.
The pattern is charted only and the socks are knit on circulars using magic loop method but this can easily be adapted to dpns if you wish. Please feel free to substitute whatever details you prefer. The size is adjustable as well since the lace is not an all over pattern, however the pattern is only written for a size medium.
This pattern has not been tech edited or test knit, please get in touch with me if there are any issues or questions. happy knitting!
Sponsors
Hobbii with sock yarn http://shop.hobbii.se/cia_sock-a-long
Dina Dimina @nastienka https://www.etsy.com/shop/MinooBoutique
Winner
Will be announced here later / The winner of February is Petrakt ( Ravelry name)