In March we are doing a collaboration with a Norwegian Podcast called Garnbutiken Fortuna https://www.youtube.com/results?search_query=garnbutikk+fortuna+podcast
We have noticed that many of the Scandinavian knitters are taking part in both of our KAL`s, and to make ot a bit easier for you this month we have decided to pick the same pattern. This means that you can dubble dip in two knit a longs with your Mars sock and take part in two price drawings.
So for March we have picked a pattern where we will do some textured cable knitting . I am feeling a bit nervous for this one since I am not a very experienced cable knitter! But as I have said before, we are here to learn new things and to move outside of our comfort zones. We can do this!!
The pattern we will knit this time is a design by Sarah Jordan https://www.ravelry.com/patterns/library/lemino-socks
This is a direct link to the pattern: https://www.printfriendly.com/p/g/FxWnjK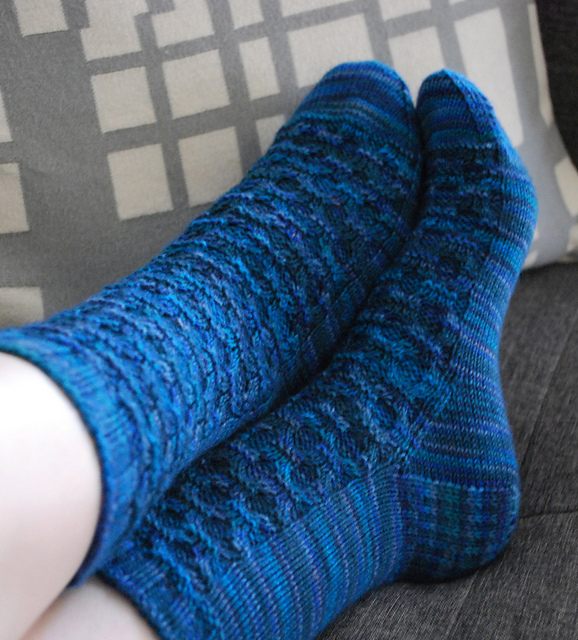 Simple cables and knit/purl texture combine in these unisex socks that comfortably hug the foot. They are worked from the cuff down and use a traditional heel flap and gusset and a wedge toe.
To knit these socks, you'll need to know how to do the following:
knit and purl when working in the round and flat
read and work from a chart
do simple (4-stitch) cables
do simple decreases (k2tog, ssk, and p2tog)
pick up stitches along an edge
use Kitchener stitch to graft live stitches
Notions needed: stitch marker, cable needle, tapestry needle
A note on yarn usage: For most, a pair of socks will take 100 g of yarn (usually somewhere in the vicinity of 350-450 yds./320-411.5 m). However, if you are knitting the largest size and/or have very large feet, you might find that you need more than one skein of yarn, so please be sure that you have enough yarn for your socks before you start.
The sponsors in March
Janne from the podcast "Strikk på landet" has made a project bag. It goes with a smaller bag with cute little progress keepers.
Anna Friberg @yarnesty has sponsored us with a sock kit, pattern and yarn for one of her own designs. https://www.ravelry.com/designers/anna-friberg
Thank you so much 🙂
The winner will be announced here in the beginning of April
We had 269 finished socks for Marsh and the winner this time is "inthepoppygarden"
Congratulations/ Cia